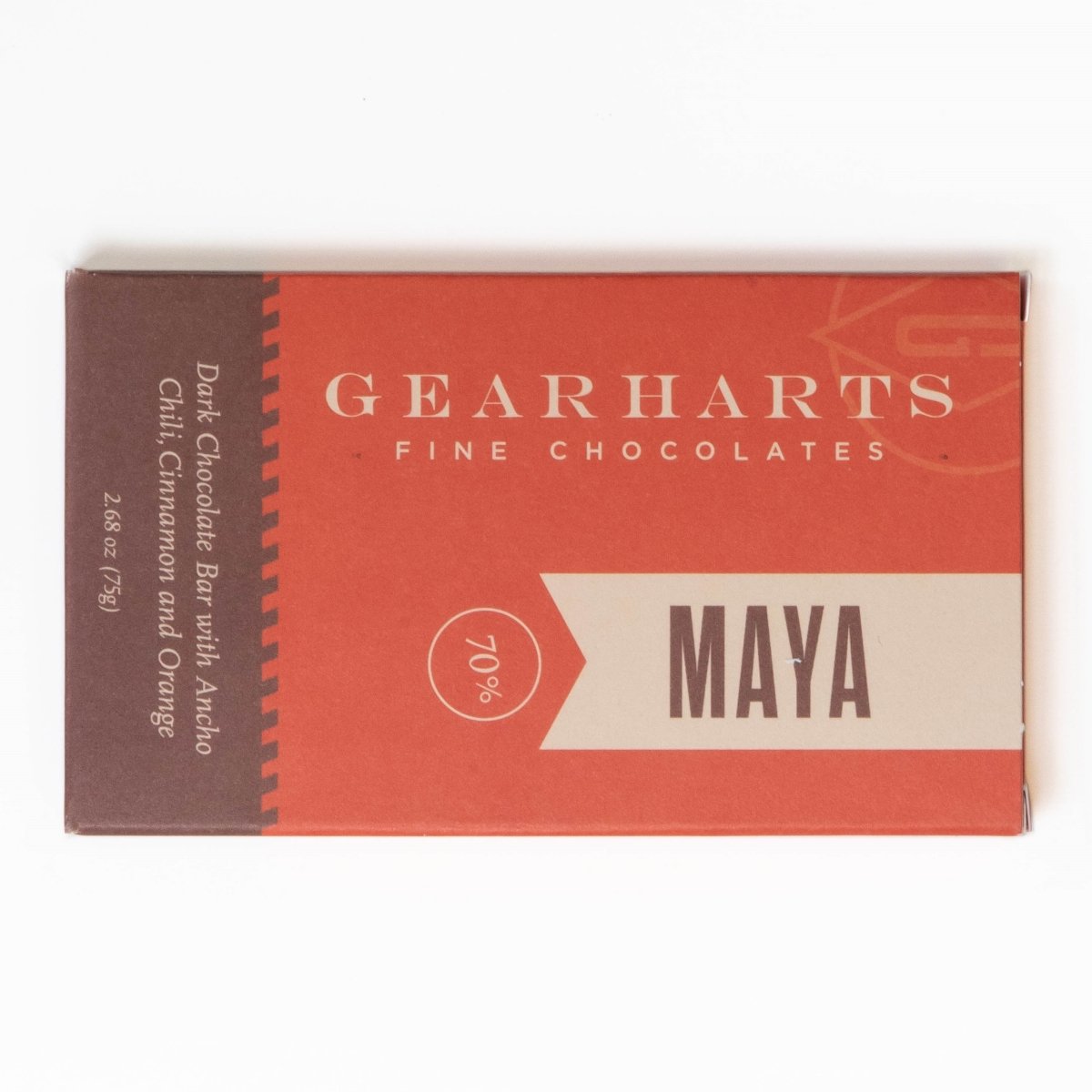 Your choice of our solid, custom blended chocolate bars in 70% dark or 41% milk chocolate. Choose from the following:
Maya - Dark chocolate accented with cinnamon, orange and smoky Ancho chile
Criolla - Dark chocolate with raw cacao nibs
Ginger - Dark chocolate with candied Australian ginger pieces.
Espresso - Dark chocolate with finely ground local espresso-roasted beans 
Almond - Milk chocolate with Marcona almonds, feuilletine (crisp French pastry bits) and a hint of sea salt
Blueberry - Milk chocolate with dried blueberries and a hint of lemon zest
Product Details

All dark chocolate bars are vegan, all bars except Almond is gluten free. Each bar is 2.5 oz

Ingredients

 

Dark Chocolate Bars:


Dark Chocolate( Cocoa Liquor, Sugar*, Cocoa Butter, Soy Lecithin*, Natural Vanilla)  *Non-GMO

Maya- Cinnamon, Ancho Chili Peppers, Pure Orange Oil. Contains: Soy

Criolla- Cocoa Beans. Contains: Soy

Ginger- Crystallized Ginger(Organic Ginger, Organic Sugar*). Contains: Soy


Espresso-Roast Coffee Beans. Contains: Soy


Milk Chocolate Bars:


Milk Chocolate( Cane Sugar*, Cocoa Butter, Whole Milk Powder, Cocoa Liquor, Soy Lecithin*, Natural Vanilla) *Non-GMO

Almond- Marcona Almonds( Marcona ALmonds, Oil, Salt) Sea Salt, Feuilletine (Enriched Wheat Flour, Sugar*, Milk Protein, Vegetable Shortening, Egg Yolks, Salt,and Lecithin), Sea Salt. Contains: Milk, Soy, Wheat, Almonds

Blueberry- Wild Blueberries (Organic Wild Blueberries, Organic Cane Sugar*, Organic Sunflower Oil), Pure Lemon Oil. Contains: Milk, Soy, Seeds


Manufactured in a facility that also processes Tree Nuts, Peanuts, Gluten, Sesame, Egg, Wheat, Soy, Milk.

 
Shipping Info

 

-FLAT-RATE $12.50 SHIPPING on orders of $20-74.99, nationwide!

-FREE SHIPPING on orders of $75 or more, nationwide!

Shipping Policies

All products are packed and shipped with FedEx from our production facility in Charlottesville, Virginia.
We ship all products to arrive within two days of carrier pick-up because of the delicacy of chocolate. If it won't be delivered by Friday, we will ship it on the following week so that your chocolates don't spend the weekend on the back of a truck.
We use insulated packaging and gel packs to ship to warm weather locations. We ship nationwide, year-round.
We do not ship internationally or to PO Boxes.
Holidays are very busy for chocolatiers! Please place holiday orders well in advance and let us know when you would like for the package to be received in the comment section of the check-out page.
Please verify your shipping addresses!
Once your order is shipped, you will receive an email with tracking info from the carrier.
We ship "No signature required", so it is always best to send to an address where someone will be available to receive the box, such as a business address. The drivers may choose to hold the package for re-delivery, if they do not feel that it is secure. We cannot be held responsible for packages that are lost, stolen, or damaged after they are delivered by the carrier.
Shipping times do not take adverse weather into consideration. This may cause delays from the carrier for which we cannot be held responsible.
Orders received by 11:00 am will generally be shipped out the same day.
If you have any questions, concerns, or would like to make special shipping arrangements such as Saturday Delivery, please give us a call at 800/625-0595.